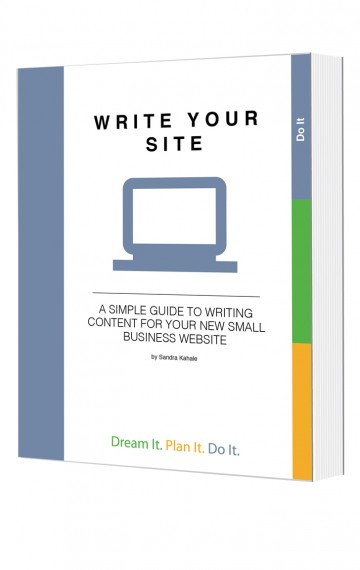 $20.00 USD
Buy Now
Starting a new business and need to get online fast?
Working with a web designer who's clamoring for your content?
Not quite ready to work with a professional writer yet?
Write Your Site is a simple, step-by-step guide to writing your new small business web site, fast.
Create clear, compelling web copy that connects with your visitors, turning them into prospects and customers.
Do it fast by focusing on the core pages of your site – the Home page, the About page, the Sales page(s) and the Contact page – with simple instructions to guide you.

Worried that you aren't a good enough writer? Don't be.
You don't have to be a great writer to write great web copy.
The best web writing – the kind that creates powerful, profitable connections with your online visitors – isn't cute or clever. It's simple… clear… concise… and focused on exactly what your readers want and need.
Write Your Site Makes it Simple
Craft your own web copy in just 5 easy steps:
Get Organized: define who and what your site is for.
Rough it Out: figure out what you'll say using page-by-page worksheets.
Work Your Words: use templates and 6 simple tips to draft your copy.
Polish: give it all a final once-over.
Publish: that's it!
You Can Do This!
I've taught this method to people with different backgrounds, different skills, and different online goals. It works, and you can do it!
"I feel empowered!"
"Fantastic ideas and strategies for writing copy for our website."
"The format really helped me break it down."
"I feel like I CAN do this!"
"I feel invigorated to write my web site."